In the last quick tip I gave you some handy phrases to help you make plans with your Spanish speaking amigos, How to say I'm on the way.
Today I'll give you five sentences you can use to let them know when to expect you.
Voy a llegar tarde – I'm going to get there late
Voy tarde – I'm running late
Estoy casi llegando – I'm almost there
Llego en diez minutos – I'll be there in ten minutes
Ya llegué – I'm here
And there you have it.   These sentences work whether you're texting or talking on the phone  with your Spanish speaking friends.
By the way, if you don't understand the image at the top of the page, it says:
Ya voy llegando
I'm almost there now
Frase típica que dices cuando aún ni sales de tu casa
A typical phrase you say when you still haven't even left the house
Funny, but sometimes true.   And now that's six phrases for you to use.
You can find more useful phrases like these on the Say it in Spanish page.
BEFORE YOU GO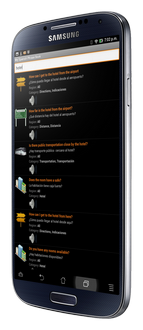 If you want to learn more phrases to help you make plans in Spanish, then take a look at the My Spanish Phrasebook app for Android app.
It contains the phrases you learned above and over 1900+ additional useful phrases for travel and conversation.
Developed by me, the application is collection of practical, common and often indispensable Spanish phrases I've learned and needed while traveling in Spanish speaking countries over the last 13 years.
Many of the phrases  you just won't find in your run-of-the-mill guide books or apps and it's updated at least once year with additional phrases I find necessary during my travels.
You can search the list, hear the pronunciation of each phrase, there are notes on usage when needed and it even specifies if a given phrase is particular to a specific region of the Spanish speaking world.