Verb conjugation is one of the most brutal parts of learning Spanish because there are no shortcuts, you have to put in a lot of hard work.
In another article I give you some practical advice that will add some clarity and direction in your efforts to learn how to conjugate verbs in Spanish, making the process more efficient, focused and productive.  You can find that article here:
A more effective approach to learning Spanish verb conjugations
In this post I'm going to share some of the most helpful resources I used to help me learn how to conjugate verbs with the hope that they benefit you as much as they did me.
Let's get to it.
Practice Makes Perfect Books – Spanish Verb Tenses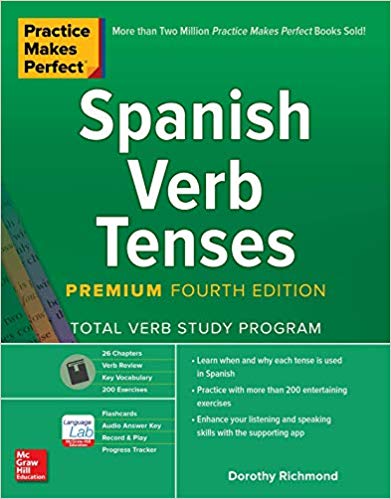 One of the first resources I started with was the Practice Makes Perfect – Spanish Verb Tenses book.
The book provides clear explanations with  lots of examples and practice exercises.  You'll learn when and why to use each verb tense, verb conjugations and more .
In fact, there is an entire series of these  books, each one focusing on one aspect of the Spanish language.
I own several of them and still use them from time to time as a refresher.   They are very affordable and well worth the investment.
Here's a page of out my copy in case your curious.
You can get the Spanish Verb Tenses book from Amazon of course.
Click here to see the Practice Makes Perfect collection of learning Spanish books
Fred F Jehle  Spanish Verb Forms
This site has a large collection of Spanish verb conjugation charts, grammar explanations and printable worksheets.
I used this website quite a bit, just as much for the verb conjugations as the grammar explanations.
Click here to visit the Fred F Jehle website.
The Spaleon Verb Conjugation Tool
Spaleon is a great tool that allows you customize your practice sessions by selecting the specific tense and verbs that you want to practice.
It allows you to select the verb(s) and tense you want to practice and then runs you through each of the conjugations.
I recommend you focus on a limited number of verbs and keep in mind that rote memorization isn't going to be as effective as learning the verb conjugations in context.    However, this is a great tool to use in conjunction with other study methods.
Learning Spanish Like Crazy
And lastly I come to Learning Spanish Like Crazy.   It's one of the many courses designed to teach you Spanish, but the one thing it does an excellent job of is teaching you verb conjugations.  Not through boring exercises, written drills and old-fashioned memorization, but through spoken Spanish using the listen and repeat approach to learning.
Every dialog that introduces a new verb walks you through every single conjugation of the verb (except vosotros) while adding in a ton of vocabulary as well.  This is how I really learned verb conjugations, through listen and repeat.
There's also level 2 and level 3 which combined walk you through all of the Spanish verb tenses.
When all is said and done, I used a number of different resources, but I've yet to mention the resource that helped me the most.  And best of all, it's free.  And if you ask me, it's the most effective tool out there.  What is this magical resource you ask?
Conversation
Yep, hit the streets and start flapping those gums.  No other method is as fun or effective as talking to a real person.
Taking everything you've studied and using it in real life conversations is what puts it all together, burning it into your memory and making you an official Spanish speaker.
That's it for today.  ¡Ojala que les sirva!