Traveler.  Blogger.  Podcaster.  Self-taught Spanish speaker.
Your conversational Spanish coach
So this is me, and that's the city of Medellín, Colombia in the background.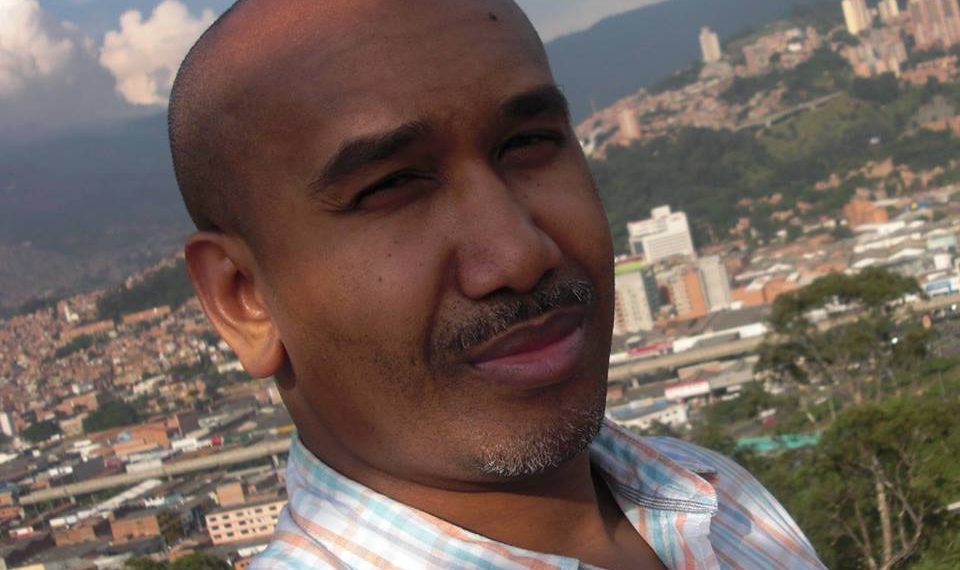 A little about me
I started my journey with Spanish like many people, completing a few years of high school Spanish but yet wasn't even able to have the most basic conversation.
Fast forward some 20ish years later (around 2005)  with one trip to Mexico under my belt, my desire to learn Spanish was rekindled.   Since then I've become obsessed with Spanish and have dedicated the last thirteen years  to learning Spanish and at some point along the way became a fluent Spanish speaker.
I've also traveled to a number of Spanish speaking countries, Costa Rica, The Dominican Republic, Puerto Rico, Mexico, Colombia and Nicaragua and I've been helping people learn Spanish by sharing my language, travel and  cultural experiences that I've gained over the last thirteen years.
I've been blogging since 2008,  running a Spanish conversation group on MeetUp.com since 2011,  teaching a conversational Spanish class since 2013 and recording learning Spanish podcasts since 2016.
If you're interested in online conversational Spanish classes, you can find more information on my meet up group page.
https://www.meetup.com/ConversationalSpanishClass/
If you're wondering how I learned Spanish, I'm autodidacta, self-taught.   I started with a  Spanish language audio course called Learning Spanish Like Crazy (Lessons 1 to 30).
In fact,   you can get a free copy with an Audible trial membership.   I recommend giving it a try, I don't think I would have become fluent without it.  And the course is yours to keep even if you decide not to keep the Audible service.
In the future I'll be posting more details of how I managed to become fluent, but for now that's enough about me.   Let's talk about the blog.
What's this blog all about?
Spanish textbooks and classes don't teach you nearly enough to make you  fluent in Spanish.  Once I started talking to Spanish speakers on a regular basis, this became painfully obvious.
I was able to find a few Spanish resources that helped, but I spent  countless hours searching the internet, book stores and talking to friends just to piece together a bit of knowledge here and there.   Even with the vast amount of information available on the internet today you can't easily (if at all) find everything you need to truly become fluent in Spanish.
That's why I created this blog, for it to become the go-to resource for learning real world and conversational Spanish.
I also intend for this site to serve as a guide for those of you looking to learn Spanish on your own, autodidacta, the same way I did.  I'll give you the guidance you need to successfully create your own roadmap to Spanish fluency.
Here are the 5 primary topics I'm going to focus on:
1. Giving you simple but effective learning advice.
I've come across some great tips since I started learning in 2005 and I've also developed numerous simple but effective learning strategies of my own.
2. Pointing you to the right resources to help you learn conversational Spanish.
Grammar based resources are a dime-a-dozen, but there aren't too many really good conversational resources, free or paid.  I'll point to you to the best of both.
3. Helping you learn to speak naturally, like a native Spanish speaker.
I'll teach you  el lenguaje popular, which is the common, everyday speech that native speakers really use.   Everyday speech can differ greatly from textbook Spanish, so you need to be prepared.
4. Teaching you the most common regional, slang and colloquial Spanish.
Native speakers use all of these elements of speech in their daily conversations  without even realizing it.  Spanish  varies a lot from country to country, and between the regions within a country.
5. Helping you learn you the Spanish you need for everyday situations.
If you expect to be truly fluent you need to learn the Spanish for everyday tasks like banking, doing laundry, shopping and a whole lot more.
Getting started with the blog
Let me point you to the sections of the blog that you may find the most  useful.
I suggest taking a look at my podcast series, All About Spanish Verbs and Real Life Spanish.
You may also enjoy my Say It In Spanish series of posts, which is a collection of articles that teach you the Spanish you need for everyday situations.
You can also browse through the menu at the top of the page or browse the list of articles in the Site Library.
Lastly, don't forget to sign-up for the newsletter to be notified when I add new material.  I'm looking forward to helping you improve your Spanish and achieve your Spanish language goals.